Sensory-Friendly Morning
The lights and sounds of the Iowa State Fair will be a little lower on Wednesday, August 17, 2022 for the first ever Sensory-Friendly Morning at the Fair, presented by ChildServe. With thousands of things to do, see or eat, the Fair might seem a bit overstimulating to some, so we are bringing it down a notch or two for a morning.
At the Sensory-Friendly Morning, we will create an environment designed with children and adults with autism or sensory processing disorders in mind. Our goal for the morning is to enable families who have a member, whether child or adult, with special needs to visit, explore and enjoy the Fair.
Special sensory programming is planned with modifications in certain zones of the Fairgrounds. A Calming Room, sponsored by ChildServe, will also be open to anyone that needs a little time to recharge or destress. The event includes the mitigation of sounds and motions as much as possible, designated educational areas, directional signage and trained volunteers.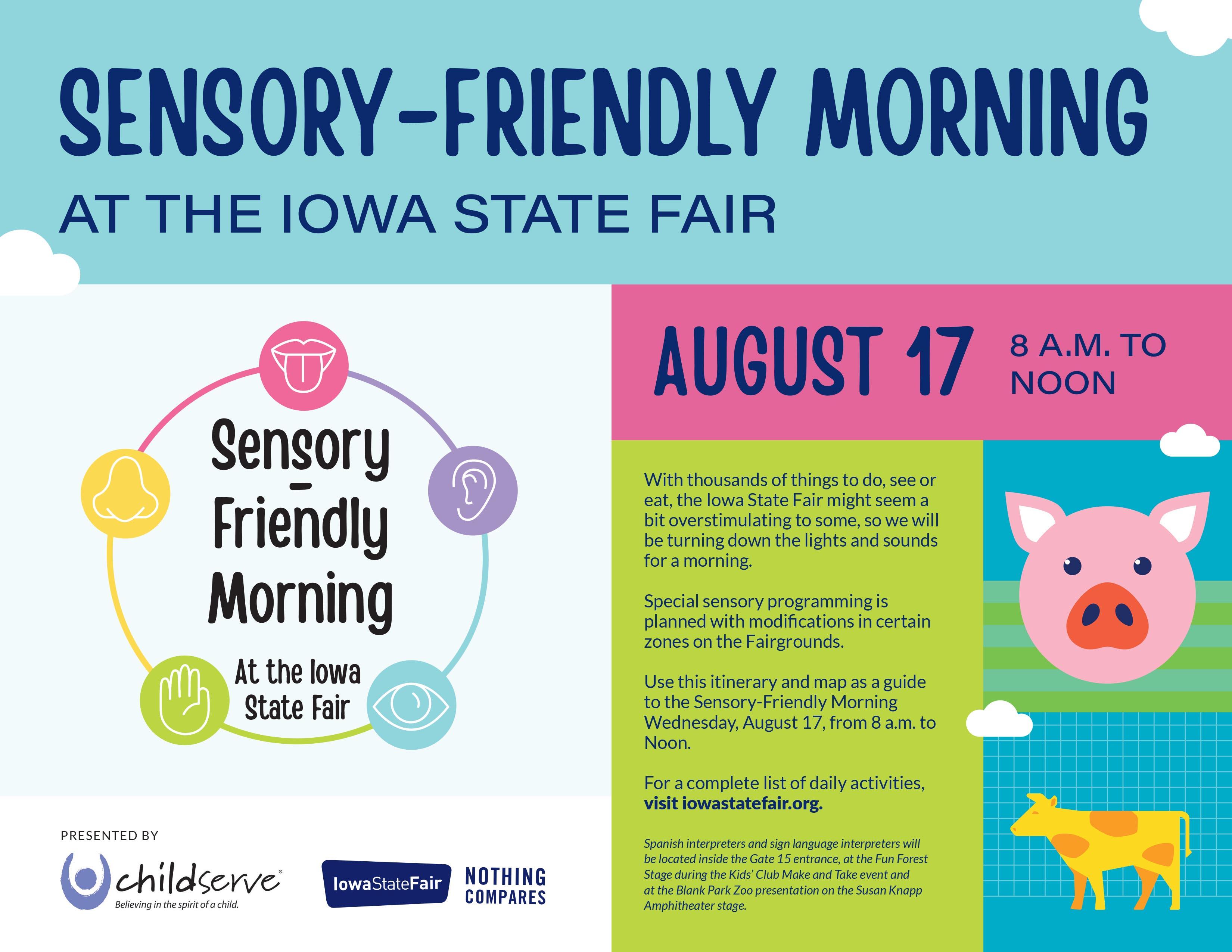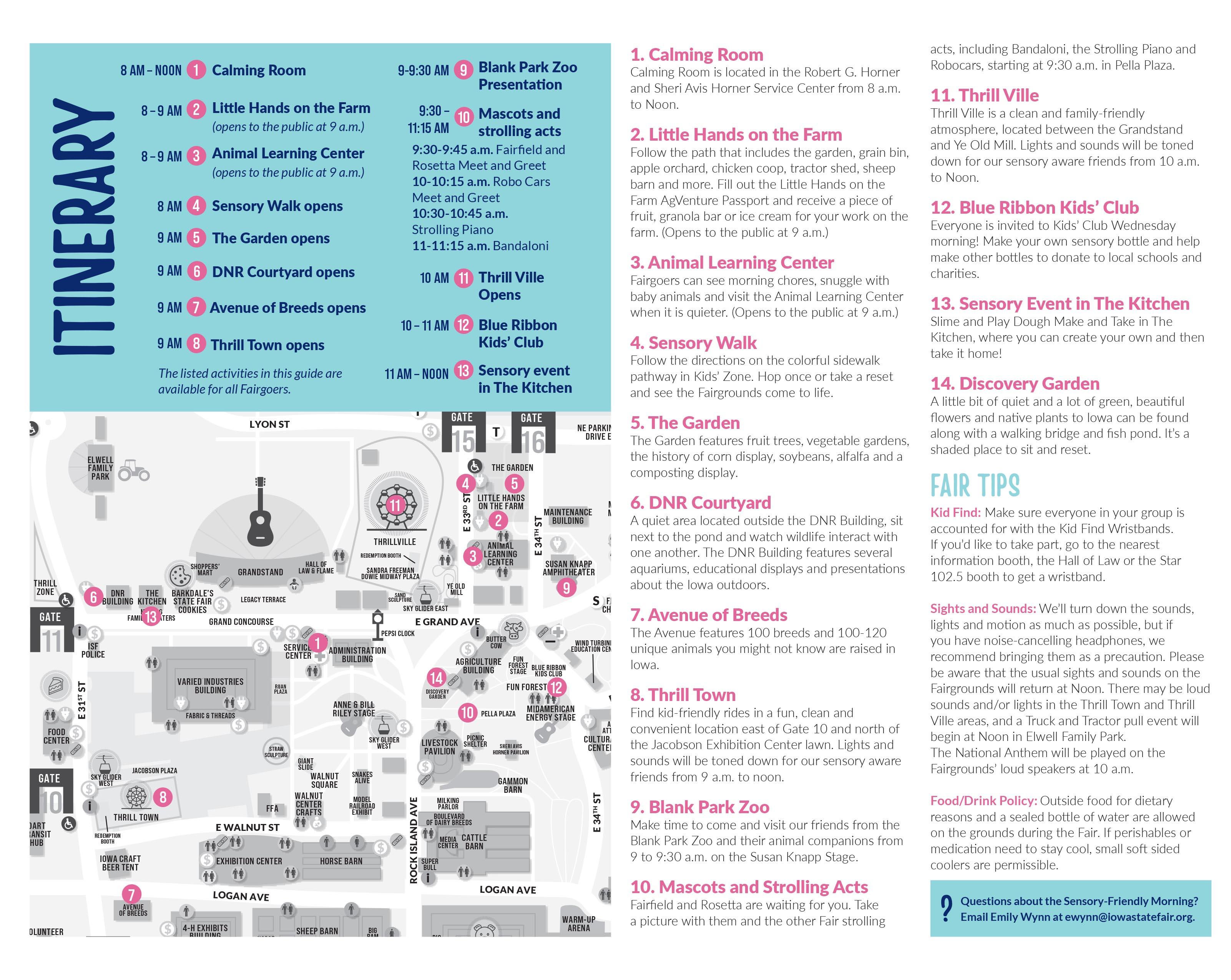 Fair Fun
Find Your Fun with activities after you've had fun at the Fair! The following were made in The Kitchen during the Sensory-Friendly Morning.
More Info
Do I need to pre-register?
There is no need to pre-register for this event. Some Fair areas are open to our sensory sensitive friends early, but the Fair is open to the general public during normal hours.
How do I buy tickets?
You can save $5 on adult tickets by purchasing them online before the Fair. They will also be available at the Iowa State Fair ticket office, area Hy-Vee, Price Chopper, Fast & Fresh and Fareway stores after July 1. They are good any day of the Fair, including during our special programming on Wednesday, August 17.
Parking is $10 in the North, University and Northeast Lots.
Should I bring anything with me to the Fair?
Although the Truck and Tractor Pulls do not start until noon, there may be a few tractors that fire up before noon to warm up. We will try to quiet as much as we can, but if you or someone you are with is sensitive to sounds, please plan accordingly for headphones or to be inside buildings.
Will there be a quiet space?
A Calming Room will be open all days of the Fair in the Robert G. Horner and Sheri Avis Horner Service Center. It will be open and staffed during the Sensory Friendly morning, but upon request from the nearby First Aid Station, it can be opened for special circumstances throughout the Fair.
Is there an Adult Changing Station?
The Adult Changing Station is located in the First Aid Building marked with a red cross under the sky glider near Fun Forest. It is fully automatic and moves from 6 inches to table height. It is open from 9 a.m. to Midnight each day.
What should I expect at the gates?
For the safety and security of all our guests, there are metal detectors at our gates. Many of them are simply walk thru without a lot of interaction needed. If you need special accommodations, please ask for the gate captain.
Do you have Service Animal information?
The only animals allowed on grounds and in buildings are those that align with the ADA's service animal classification for animals specifically trained to do work or perform tasks for people with disabilities. Animals whose sole function is to provide comfort or emotional support do not qualify as service animals under the ADA and are therefore not allowed on grounds or in buildings.
Will there be interpreters?
Spanish interpreters will be provided by MercyOne and sign language interpreters will be provided by Deaf Services Unlimited. Spanish interpreters and sign language interpreters will be located inside the Gate 15 entrance, at the Fun Forest Stage during the Kids' Club Make and Take event and at the Blank Park Zoo presentation on the Susan Knapp Amphitheater stage.
Where should I park?
There are several parking lots on the Fairgrounds, the North Lot, University Lot and Northeast Lot. If you are coming from the east, headed westbound, turn left into the University Lot. If you are coming from the west, headed eastbound, turn right into the North Lot. There are accessible spots on a first come-first served basis in the North Lot. There are also courtesy golf carts and a tram to get you to the entry gate if needed. Motor coach buses may be dropping off guests at the Gate 15 entry gate that morning.
How can I volunteer during the Sensory-Friendly Morning?
If you are interested in volunteering, please contact Emily Wynn at ewynn@iowastatefair.org about volunteer opportunities.