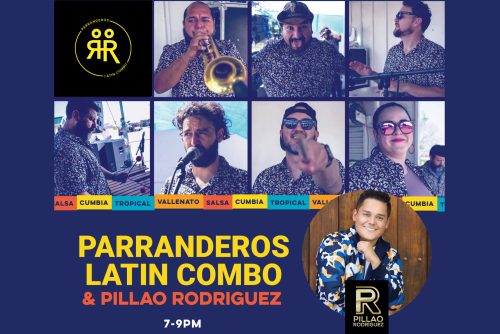 Parranderos Latin Combo
Parranderos Latin Combo (PLC) is a Latin music band creating original music inspired by Salsa, Cumbia, Son Montuno, Afrobeat, Plena, Joropo, Salsa Dura y mas. The collective of musicians are based between Des Moines, Iowa and Medellin, Colombia. Live performances are high-energy dance parties worth every dime and drop, infusing Salsa classics with original grooves and compositions mixed to impress hips of discernment into rage. PLC was founded in 2010 by Fernando Aveiga and Ryan Mullin. Juan Sebastian Ramirez Espinosa joined as partner and musical director in 2019 and many inspired/talented musicians from the past and present have added to the ever-evolving collective that is PLC.
Pillao Rodriguez
Being one of the greatest exponents of Vallenato folklore music, Pillao Rodríguez was born in Santa Marta, Colombia; he discovered his love for music from an early age. In his artistic career, he has been recognized on numerous occasions for his talent as a singer and composer. In 2010 he was awarded in the Francisco el Hombre festival, he was also the image of the regional channel Telecaribe in 2006, among others. Pillao who has 5 musical productions, 13 video clips and more than a dozen musical hits, is a multifaceted artist who in addition to being a performer also stands out for being a producer, arranger and composer. He has had the initiative to merge Latin rhythms that is why he stands out in the top list of the radio.