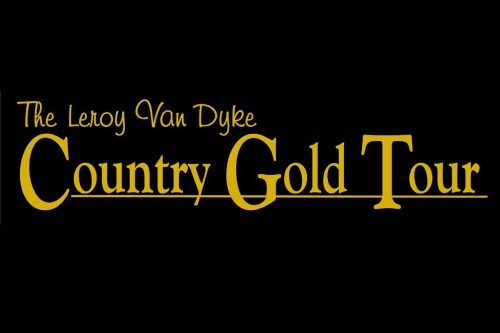 Saturday, August 19 at 5 and 7:30 p.m.
Leroy Van Dyke, of "Auctioneer" and "Walk On By" fame, star of the movie, "What Am I Bid?" is known around the world as an entertainer, recording artist, radio and television star, actor, auctioneer and veteran of the Nevada circuit. He has recorded over 500 songs, and probably holds the record for most repeat-performance bookings of any working, name country music entertainer. He has worked 40 to 70 fairs and livestock events per year for over five decades, in addition to a great variety of other engagements.
After more than five decades as an entertainer, Leroy has not missed a performance, and still travels in excess of a hundred thousand miles yearly around the world . . . he performs in all facets of show business, including fairs, festivals, concerts, rodeos, supper clubs, conventions, radio, television, recordings, the Nevada circuit, livestock events, agricultural shows and private functions.

Grand Ole Opry member Mandy Barnett, one of Nashville's enduring musical treasures who has showcased her mesmerizing voice on stages across the globe, started singing at five years-old. She has been singing since.
Barnett's style is rooted in the classic country and pop crooning of iconic singers and timeless sounds. She delves into a song with a keen interpretative sense, getting right down to its emotional core and rendering a powerhouse performance through her "pipes of steel" (Los Angeles Times). As one record executive put it, "Mandy Barnett is a song's best friend."
Barnett first gained national prominence as the original star of one of the first "jukebox" musicals, Always...Patsy Cline at Nashville's famed Ryman Auditorium. Barnett, as Cline, performs on the original cast soundtrack album and is the only actress to have played the role on the historic Ryman stage where Cline's legend began. The Ryman shows sold out nightly and received rave reviews, and Barnett has wowed critics and audiences ever since with her concerts and recordings.
Barnett's critically lauded albums include I've Got a Right to Cry, named the "Top Country Album" by Rolling Stone in the year of its release and produced by renowned Nashville Sound pioneer Owen Bradley, who also produced Cline's most loved chart-toppers (as well as producing Loretta Lynn, Brenda Lee, and k.d. lang). And Rolling Stone continued to honor this landmark album, placing it in 2019 on two of its "best of" lists of seminal classic country works.
With a string of acclaimed country albums, such as her self-titled Warner Bros. debut, her Christmas celebration Winter Wonderland, the Cline-inspired Sweet Dreams, and I Can't Stop Loving You: The Songs of Don Gibson (a tribute to her friend, the late Country Music Hall of Fame member), there's no doubt Barnett has mastered that genre and holds it dear to her heart. But Barnett is not one to be musically boxed in. Her 2018 Strange Conversation album, an Americana blend of roots, pop, and R&B tunes, includes a duet with John Hiatt and a soulful rendition of Neil Sedaka's My World Keeps Slipping Away, which Sedaka himself sent to Barnett to record. AllMusic hails Strange Conversation as the "richest record of her career: surprising, lively, and deeply felt," and The Philadelphia Inquirer, which listed Strange Conversation among the best country/roots albums of 2018, notes that Barnett "takes a disparate collection of pop, soul, and rock numbers and makes a riveting personal statement."
David Frizzell lived all over Texas starting in Greenville Texas in the early '40s when his dad went to Europe in WW2. He had his first radio show at the age of 9 in Kermit, Texas, then on to Sulphur Springs where they lived when brother Lefty got his first number one hit (and younger brother Allen was born). He began touring with his legendary brother, Lefty Frizzell at the age of 12 throughout the 1950s and 60s. After serving in the Air Force, Frizzell signed with Columbia Records in 1970 and charted his first Billboard single with "L.A. International Airport" and then a Top 40 with "I Just Can't Help Believing."
During the 1970s, Frizzell appeared regularly on Buck Owens' All American TV Show and began recording for Capitol Records. In 1981, he recorded his first number-one country hit, "You're the Reason God Made Oklahoma," a duet with Shelly West. The song won the Country Music Association's Song of the Year and Vocal Duet of the Year awards in 1981, was nominated for a Grammy Award for Best Country Performance by a Duo or Group with Vocal, and was featured in Clint Eastwood's film 'Any Which Way You Can.' Frizzell and West also won the Academy of Country Music award for Vocal Duo of the Year in 1981 and 1982.
In 1982, Frizzell released "I'm Gonna Hire A Wino To Decorate Our Home," which made its way to number one.
In recent years, Frizzell created his label Nashville America Records and has released several albums including Frizzell & Friends: This Is Our Time which includes a bonus track, written in honor of Lefty Frizzell, Merle Haggard, and traditional music in general. "Lefty, Merle & Me" features David with Marty Haggard.
David Frizzell is a timeless and tireless entertainer who continues to share his many gifts to the delight of fans old and new across the US and throughout the world.