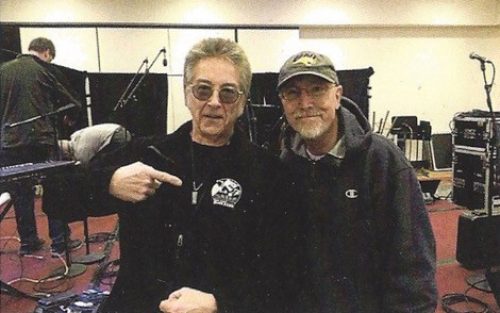 During Bob Dorr's 49 year career in Iowa Public Broadcasting, he's had the opportunity to present thousands of musical acts to hundreds of thousands of Iowans via Iowa Public Radio and Iowa Public Television. For 40 of those years, Dorr and guitar player Jeff Petersen have presented their own live music performances to many thousands of music lovers all over the Midwest.
The first 36 1/2 of those forty years, Dorr and Petersen were original members of the Iowa Rock & Roll Hall of Fame band The Blue Band (who made yearly appearances at The Fair from 1983 through it's final summer, 2017) After The Blue Band's final performance (on the Iowa Public Television Sound Stage, Jan. 20, 2018) Dorr and Petersen founded smaller bands to continue their music making careers, all the while meeting and playing with some of the state of Iowa's premiere blues and roots musicians.
To celebrate their 40th year of making music together and the release of their new CD 2 Guys/40 Years/5 Decades/2 Centuries/1 Goal: Making Music, Dorr and Petersen are presenting a series of Bob Dorr's Iowa Music Revue concerts. ALL of the acts have had some connection to Dorr and Petersen's 40 year musical journey.
At The Fair, August 21st, joining Dorr & Petersen's bands The Blue 2, BlueMississippi, and The Limestoners (so named for their years of hosting the weekly blues jam at the Limestone Lounge on E. 4th St. in Waterloo) will be Iowa Blues Hall of Famer Freight Train Frank Strong, original Blue Band drummer Bryce Loshman, Singer Cindy Grill (lead singer of the Des Moines band Hot Tamale & The Red Hots) teenage guitar phenom Sleepy Bones Allison from Waverly, The Deja Blue Band from Waterloo and Stumpf Fiddle player Barb Farrow. Expect other surprise "jammers" through the night! Two shows, 7 & 9pm.
Bob Dorr and Jeff Petersen are both double inductees of the Iowa Rock & Roll Hall of Fame, both inducted members of the Iowa Blues Hall of Fame, and were sited by the Waterloo City Council as Cedar Valley Music Icons.
Dorr was sited by both chambers of the Iowa Legislature as an Iowa Cultural Icon, and is an inductee of the Davenport Central High School Hall of Fame.