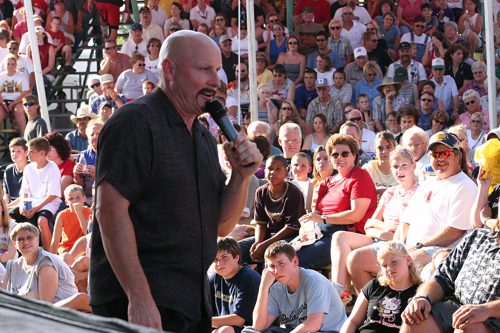 After spending eight years as a performer and show designer with Walt Disney Productions and receiving degrees in Psychology and Sociology from TCU in Fort Worth, Texas, master magician, illusionist and hypnotist Ron Diamond decided it was time to build the ultimate show of his dreams. A master at all levels of magic and hypnosis, Ron is also a professional Stage LIghting and Sound Designer for other national acts. Ron will intrigue you with his superb sense of timing and humor.
Ron has been performing his magic, hypnosis and seminars in the medical field on clinical hypnosis and also is a certified speaker, trainer and coach with the prestigious John Maxwell Team all over the country.
This year will mark Ron's 31st year performing at fairs and speaking at other events throughout the United States. With over 19,000 career engagements completed you will see why he has one of the highest re-booking rates of any entertainer in the fair industry.
Everywhere Ron performs one thing stands out. His down to earth style and constant high energy programs guarantee that audiences from young children to older adults will leave the show with a feeling of wonder, awe and laughter.
You have a chance to see and be a part of this exciting show here at the Iowa State Fair Monday, August 15th through Saturday, August 20th. Come join the fun!