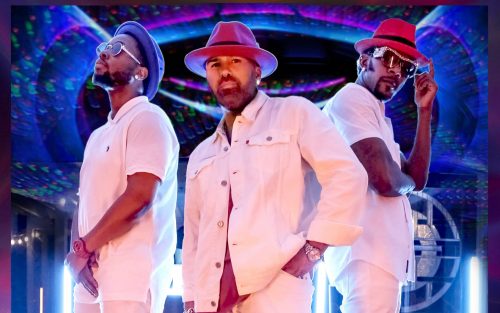 Color Me Badd
Color Me Badd is an American contemporary R&B group that was formed in 1985 in Oklahoma City, Oklahoma by Mark Calderon (born September 27, 1970), Bryan Abrams (born November 16, 1969), second tenor second tenor Sam Watters (born July 23, 1970) and baritone Kevin Thornton (born June 17, 1969). Color Me Badd broke up in 1998 before reuniting in 2010, with various lineups since.
Best known for their singles "I Wanna Sex You Up", "I Adore Mi Amor" and "All 4 Love", the group has sold over 12 million records worldwide,[1] had two number 1 hit singles, nine Top 40 hits and a triple-platinum album. They were nominated for two Grammy Awards, won two Soul Train Music Awards and one American Music Award, and were nominated for five others.[2] Their songs have been featured in movies and on television programs including New Jack City, Mo' Money, No Strings Attached and Glee. They made a cameo appearance as themselves on a 1992 episode of Beverly Hills, 90210.
After 1998, the group reformed in 2010 and has been touring on several notable tours such as "I Love The 90's Tour", and supporting other hit acts like Salt N Pepa, Vanilla Ice, Bell Biv Devoe, and many more.
A founding member, Mark Calderon, the only original member now leading the group out on tour says "I've never been more excited to get out on the road and share the highest energy show in Color Me Badd history. We want the fans to have the ultimate experience. The team and I have worked hard to make sure we leave you with the best night of your life when you come see us live and we're hopeful you'll enjoy re-living these songs with us!"